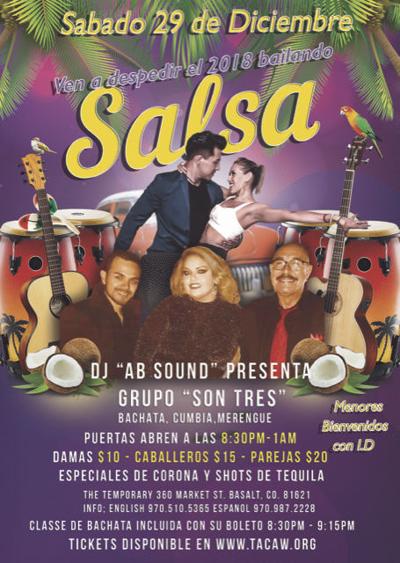 There's an event tonight at The Temporary in Basalt that, at first glance, doesn't seem like anything out of the ordinary.
There will be a band from Denver, and there will be dancing, as well as bar specials on Corona and shots of tequila. In that sense, it could be any Saturday evening at the popular midvalley nightspot.
But one look at the poster touting the event shows tonight is going to be a little different than most Saturdays. The tropical graphics, including palm fronds, coconuts, parrots, maracas and conga drums, are unapologetically garish, and the words, hinting at the event's intended audience, are all in Spanish. That can only mean one thing: It's salsa night.
The fact that salsa night doesn't seem like a big deal is a measure of the progress The Temporary has made in wooing a broader swath of the community. This is the seventh such event at the club since it opened 16 months ago, and in that time, you could probably count on one hand the combined number of Latino-specific events at the valley's other major performance venues.
For The Arts Campus at Willits (TACAW), the nonprofit that operates The Temporary, what would seem anomalous for its colleagues has been a focus of programming efforts from the get-go.